Free Ground Shipping on all orders $75 or more within the continental 48 states of the US!
Welcome to Bingo Shop
Bingo Shop is owned and operated by Integrity Bingo, LLC. Please feel free to contact us with any questions or comments.
Customer Support
Tuesday, Wednesday, Friday 9am - 4pm CST
1-877-672-7861
Contact us through e-mail
Download a PDF of Bingo patterns
Tired of playing the same old game? Use this PDF to come up with new and exciting ways to play Bingo!
Download Game Patterns
Featured Items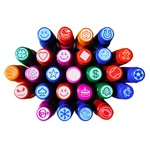 Bingo Delight Bingo Dauber