Free Ground Shipping on all orders $75 or more within the continental 48 states of the US!
Bingo Pot of Gold 10-pocket Dauber Bag Vinyl
This 10-pocket dauber bag is sure to bring the luck.  After all, it has a pot of gold on it spilling gold coins across the image.  The bag features two drawstrings to keep the bag open or closed as well as a complementary pouch.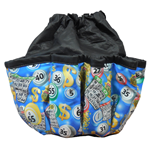 Black