Free Ground Shipping on all orders $75 or more within the continental 48 states of the US!
Lucky Charms 10-pocket Dauber Bag Vinyl
No more need to keep your lucky charms in a bag when you can save space and have them all on the bag with this 10-pocket dauber bag. Four leaf clovers, horseshoes, lucky stars, lady bugs, and lucky bingo balls are all displayed vividly! Ten dauber sized pockets wrap around the outer edge of this bag. Two beaded drawstrings help to open and close the bag. This dauber bag comes with a complementary matching pouch. Daubers purchased seperately.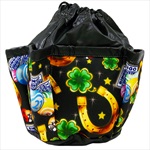 Black
SKU:
  BAGVINLUCKCHARVINBLACK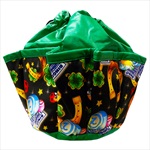 Green
SKU:
  BAGVINLUCKCHARVINGREEN