Free Ground Shipping on all orders $75 or more within the continental 48 states of the US!
Power Play Bel Air Bingo Blower
The most contemporary, high-tech bingo console on the market today! This console is the envy of bingo halls across the country. The Bel Air maximizes form with functionality.
Standard Features:
Touch screen flat-panel monitor with built-in speakers.
Slant-top design for caller comfort.
Standard PC technology with Windows XP Pro OS.
Removable front and side panels for easy maintenance.
Removable motor and base for easy maintenance.
NTSC camera for live ball image.
Secure cabinet design with lockable panels.
Compatible with Video King's 90-Number Flashboard.
Software Controlled Video Switch for enhanced multimedia control.
Software Features:
Compatible with the OMNI™ bingo management system, the e-BOS™ gaming systems, including Video King's Power Touch fixed-base systems, Campion II gaming tablet, and the full line of Video King handheld bingo devices.
Compatible with Bingo Racing software
Supports PowerVideo software, for multimedia flashboard displays.
Integrated presentation software for "in-hall" advertising.
Advanced Windows-based PowerEdit game program editor.
Digital image picture-in-picture for live ball display on the game screen.
Easy-to-follow, on-screen directions and menus.
Easy back-up of game programs.
Remote access software for program changes/troubleshooting.
Full system restore software.
Built in verification of all known bingo perms.
Supports complex pattern definitions, including multi-level, multi-card patterns.
Optional Features:
"A" Data signal translator for connection to "A" data style flashboards.
Can be configured for right or left handed callers.
Technical Specifications:
Two "B" data outputs
Two payout data outputs
Two Bonanza Bingo "R" data outputs
Supports Video King "B" data flashboards, including the 4000; 6000; 7000; 7500; 7600 and multimedia flashboard series
One parallel port for connection to any standard printer
One RJ11 modem jack for remote service dial-up conection
One RJ45 Ethernet port for connection to local area network
Two RCA line level audio inputs for audio mixing/multimedia capabilities
Two RCA line level outputs for connection to hall audio system or monitor speakers
One 1/4 inch microphone input jack for caller audio equipment
Dedicated video graphics card for crystal clear caller and hall video displays
Three NTSC video outputs for connection to hall video equipment displaying live ball image and switching to card verification image
Flourescent light ball chamber for maximum clarity and ball action view
This product is not eligible to be shipped legally to some states. Check your local licensing and district laws. Freight costs are incorporated into the price of the item. Allow for 4-6 weeks processing and shipping. For more information please contact us @800-749-1918.
GLI Certified
This product is freight only and therefore not eligible for the Bingoshop free shipping policy.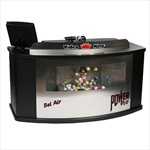 Power Play Bel Air Bingo Blower
Manufacturer Part #:
  18PPLAYBELAIR600