Free Ground Shipping on all orders $75 or more within the continental 48 states of the US!
Bingo Collage Pillow
This pillow measures 16 inches by 16 inches. Also comes with a carrying handle. This large pillow has a Bingo-theme decoration on the front and six pockets on the back.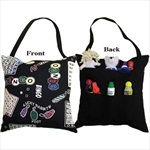 Pillow
Manufacturer Part #:
  50082