Free Ground Shipping on all orders $75 or more within the continental 48 states of the US!
Hope Ribbon Promotional Key Ring
There is a standard key ring with two very special attachements. The first is a series of chains with the letters that spell out "HOPE" as well as a Pink Ribbon. The other is a little plaque that reads, "I 'HEART' BINGO".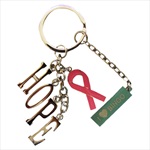 Hope Ribbon Promotional Key Ring
Manufacturer Part #:
  MYHOPEKEY