Free Ground Shipping on all orders $50 or more within the continental 48 states of the US!
Bingo "Bingo in Heaven" Sweat Shirt
We have right here a gray sweat shirt with a cute image of an angel in a cloud and the phrase "If there is no Bingo in Heaven I'm not going!". This one is a 50% cotton/polyester blend.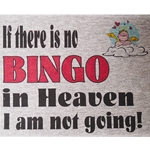 Medium Gray
SKU:SHTBINHEAMDSWGRY
Weight:0.49
---