Free Ground Shipping on all orders $50 or more within the continental 48 states of the US!
Dabby Bingo Dauber Entire Container
The original bingo ink in a tiny 10CC size with a mini tip. This is a container of twelve of each color for a total of fourtyeight Dabby's.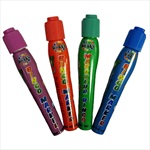 48 Dabbys
SKU:DABBYFS
Weight:4.00
---