Free Ground Shipping on all orders $75 or more within the continental 48 states of the US!
Colorful Bingo Double Seat Cushion with Flap
So many colors, so much bingo, so little time! The pattern shows many wonderfully and brightly colored bingo cards. This double seat cushion has a seat flap on the back. The foam inserts in this double cushion are roughly three inches thick. There is a handle on both ends of the cushion for ease of carrying. Each cushion measures 13x13.5x3". Two of these are fashioned together by 2.5" of patterned fabric.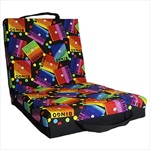 Black
SKU:CUSHIONCOLORFULBLACK
Weight:3.00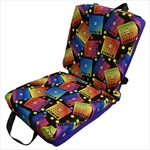 Purple
SKU:CUSHIONCOLORFULPURPLE
Weight:3.00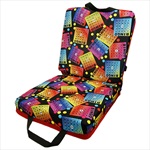 Red
SKU:CUSHIONCOLORFULRED
Weight:3.00
---